Your transportation service is growing -- and so are the demands on your budget.
Non-Emergency Transportation (NET) Ridership continues to grow exponentially -- along with demands for greater efficiency. It's nearly impossible to succeed financially without more effective route and driver tracking -- the kind of monitoring only available with effective, user-friendly digital technology.
TransiTrak fits that description perfectly. In fact, it's the optimal route organizational tool for NET providers -- because it was developed specifically for NET providers. With its simple, user-friendly grid format, NET managers can organize and manage routes more efficiently and in a fraction of the time.
But don't let its simplicity fool you: TransiTrak also has the capacity and features demanded by a large transportation service with hundreds of daily riders.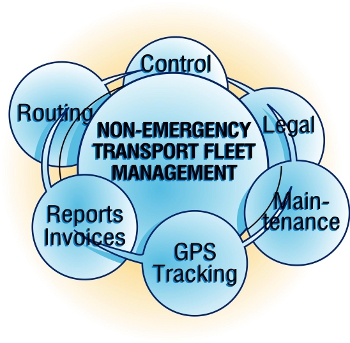 With TransiTrak you can:
•    Organize and manage routes in real-time with numerous sort and filter options;
•    Manage more trips with fewer employees and vehicles -- without sacrificing on-time performance;
•    Reduce fuel consumption and labor costs through route optimization;
•    Increase DOT reporting accuracy;
•    Track poor driving habits and economize routes with affordable GPS options;
•    Auto-track information critical for managing inventory, maintenance, employees and billing, create LogistiCare Compliant Invoices.
And there's no need for expensive computer equipment or in-house servers. You can operate TransiTrak with a desktop computer and a broadband internet connection to access your data on TransiTrak's reliable and secure remote servers.
Contact us today to learn more about our competitive packages and pricing -- we have a plan that meets your size, operation and budget.
 
TransiTrak -- your answer to better fleet management.